Dharmesh Mehta, VP of Worldwide Selling Partner Services at Amazon, is celebrating his 10th anniversary with the company this year, and so he kicked off the fourth annual Amazon Accelerate conference for sellers by comparing the differences between the ecommerce platform today and 10 years ago.
It's true that the character of Amazon has seen some dramatic shifts in the last decade: 10 years ago third-party sellers represented 40% of sales on Amazon; now those scales have tipped in the other direction, with sellers representing 60% of all sales. A decade ago, hardly any sellers sold globally through Amazon; last year, U.S.-based sellers exported more than 216 million products to customers in other markets through the platform. And finally, the total number of units sold by Amazon sellers is 8X larger than a decade ago.
Perhaps most importantly, "a decade ago, very few of you were using things like Amazon Advertising, Amazon Lending and Fulfillment by Amazon (FBA), and things like Brand Registry, Seller-Fulfilled Prime, Seller University and even Amazon Accelerate didn't exist," said Mehta at the event. "Fast forward to today — these services, programs and events provide powerful and valuable capabilities that many sellers are using to drive their business."
What became clear throughout the course of the two-day conference was that Amazon now has its sights set on expanding its role even further into nearly every part of sellers' lives — certainly well beyond simply creating the platform where they sell their products. While it's often lumped into the "retailer" category, clearly that is no longer Amazon's core identifier. With new services like Supply Chain by Amazon and Amazon Shipping joining existing offerings such as FBA and Amazon Lending, Amazon is firmly positioning itself more and more as a tech-powered service company and less and less as a retailer.
Amazon's New Raison d'Etre — Seller Services
Increasingly, the services that Amazon provides its sellers are becoming its raison d'être, while sales on its dot.com, and in particular first-party sales, are slowly moving into the realm of "icing" — they're nice to have, but the future of Amazon lies in expanding the size of the cake (and that is seller services).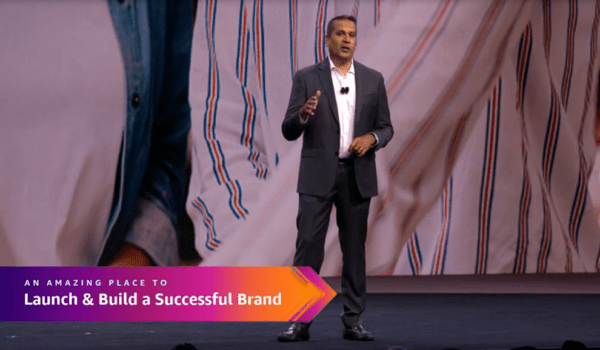 For further evidence of this shift, simply note how Amazon now talks about its sellers — the company has relinquished ownership of the brands that sell on its platform in a way that it had long resisted. At this year's Accelerate there was ample discussion of "your brand" and "your story," and indeed, over the last few years Amazon has increasingly made it possible for sellers to create their own identity and connection with consumers through offerings such as branded storefronts and last year's addition of Buy with Prime (which lets sellers offer Prime services like fast delivery to shoppers on their DTC sites).
The biggest proof of this change has been the cooling of tensions with what was once one of Amazon's biggest rivals, Shopify, which Mehta admitted at the event "might seem surprising." And yet Shopify's VP of Product, Daniel Debow, made a surprise appearance at Accelerate to tout the benefits of Shopify's new Buy with Prime integration (particularly notable because Shopify initially, and vehemently, rejected Buy with Prime, telling its clients that using the tool would violate their terms of service).
Here's a look at how Amazon is moving even further away from the domain of retailer with the debut of new services in supply chain management, shipping, banking, market research, product development, inventory management and more.
Serving Every Point of the Ecommerce Journey
Amazon's superpower has always been its ability to think outside of the traditional retail box (both literally and figuratively). This has led the company to do things other retailers would never have even considered (before Amazon did them first, of course). Two key examples: Opening up its successful ecommerce platform to third-party sellers, and then taking the tech and infrastructure it had painstakingly developed for its own ecommerce operation and offering it to those sellers as a service.
Since those initial moves, Amazon now offers services that span an ever-growing range of non-endemic industries, including a number of additions and enhancements announced at Accelerate: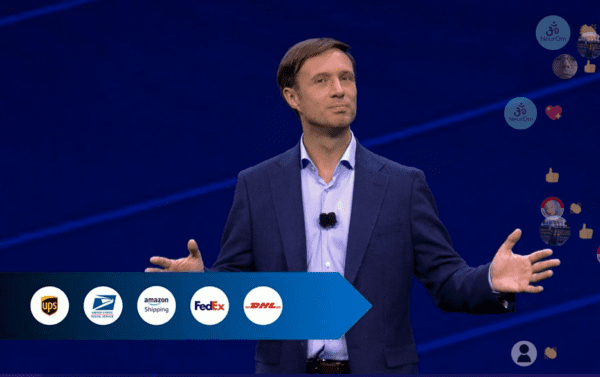 Warehousing, fulfillment and delivery through FBA, which now extends beyond orders made on Amazon to orders made on sellers' DTC sites with Buy with Prime. Now Amazon is extending this even further with its new multi-channel fulfillment service, part of its new Supply Chain offering, which will see Amazon deliver inventory to any channel, physical or digital, where a seller needs it, including brick-and-mortar stores and other websites that aren't Amazon;
Upstream supply chain services designed to simplify the process of getting products from manufacturers anywhere in the world to Amazon warehouses, both FBA facilities and its new longer-term upstream storage facilities dubbed Amazon Warehousing and Distribution (AWD);
A new ground package delivery service that is almost certainly going to give traditional shipping carriers a run for their money, particularly in light of rising costs. Amazon Shipping is available to sellers that manage and fulfill their own orders, giving them access to Amazon's transportation network to ship their Amazon orders, as well as those from their own DTC website and other selling channels, even warehouses;
New incentives and hardware to get sellers to use Amazon's multi-channel shipping and inventory management software, Veeqo. The new Veeqo Scanner is an enterprise-level warehouse fulfillment scanner (based on those used in Amazon warehouses) that integrates with Veeqo for sellers that manage their own inventory. The new Veeqo Credits program will also give Amazon sellers up to 5% back on eligible shipments as a further incentive to choose the solution. (P.S. Amazon Shipping is now one of the carriers that Veeqo is integrated with, alongside FedEx, UPS, USPS and DHL.);
Financing and financial insights: Last year sellers borrowed more than $2 billion through Amazon Lending's third-party partners. Now qualified sellers can borrow more, up to $5 million. Additionally, new functionality in the Amazon Seller Wallet will allow sellers to not only manage the money they make on Amazon but pay their vendors directly (rather than first transferring the money to a bank). And new analytics tools can help sellers identify growth opportunities by surfacing cost-saving recommendations, such as ways to reduce returns or sell through excess inventory by, for example (and conveniently for Amazon), advertising to specific audiences or moving product into Amazon Outlet;
Installment payments: Amazon has already has introduced several buy now, pay later (BNPL) options, but its new "flexible financing" solutions make the offering more universally available. Sellers themselves can now choose to offer customers the option of paying in anywhere from three to 24 monthly installments at 0% interest. Beyond an upfront fee for the service, the seller receives full payment for the product, and everything else is handled by Amazon's financing partners;
Quality control: New capabilities in the Voice of the Customer dashboard will help sellers quickly identify and rectify recurring customer concerns. Using machine learning, Amazon will surface repeated "sentiments and pain points" from customer reviews. Sellers also can benchmark the response to their products against those of other sellers in the same category and identify areas for improvement. The company also debuted a new tool that will help brands hone their product fit recommendations based on feedback and reviews from previous customers;
Product and market research: It's no secret that Amazon sees a huge number of shoppers every day, and all those shoppers' behavior provides data that Amazon is increasingly making available to its sellers to help them improve their products and marketing. At Accelerate, Amazon announced a range of new consumer insights tools to aid in product development, analyzing purchase patterns, benchmarking against category leaders and much more; and
Customer relationship management (CRM) with the Customer Loyalty Dashboard, which offers sellers insights into behavior and historical trends to help them manage long-term relationships with their customers, enhanced by the increasingly ability for sellers to communicate with Amazon shoppers directly, something that was introduced only last year.
Amazon's aim has clearly shifted, from creating a top-performing ecommerce platform (mission accomplished) to becoming the enabler of ecommerce sellers wherever they choose to sell (as long as at least one of those places is Amazon).